Magic Rack® II
More FLEXIBILITY for better PRODUCTIVITY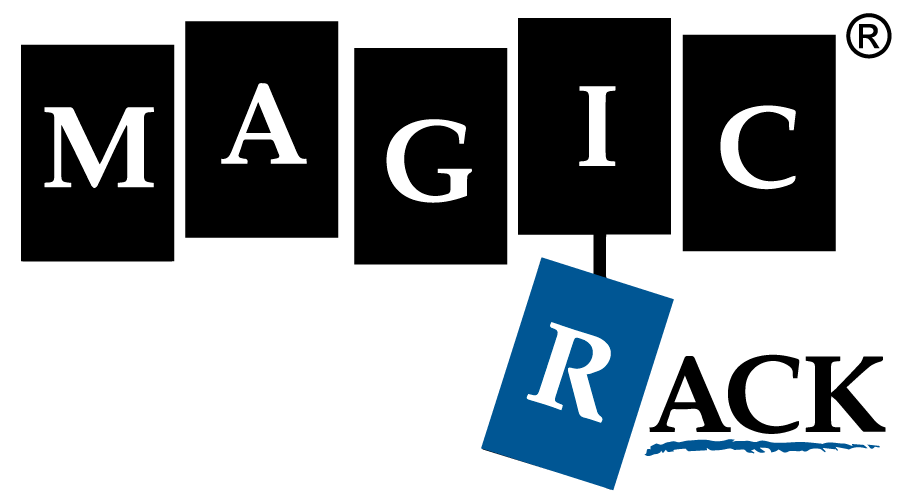 Features of our patented Magic Rack® II
Magic Rack® II heavy-duty racking systems use removable support hooks in vertical crossbars to connect multiple tiers. Already painted horizontal crossbars can be adjusted instantly to hold different parts using the protected support hooks in the vertical crossbars. All connecting points are shielded from the paint to maintain a good ground for high quality production. Each horizontal crossbar is rated for 40 pounds evenly distributed, and can be reinforced for even more weight capacity.
Assembly is minimal – just two bolts hold the vertical crossbars rigidly into the welded brackets of the top frame. The horizontal crossbars require no bolts or welding and are infinitely adjustable.
The Magic Rack® II measures 40-3 I 4″ wide for maximum density eliminating wasted space on the conveyor line.
Magic Rack® standard and custom hooks can quickly be removed and replaced. The flexible spring steel hooks lock into the Magic Rack® II crossbar and can be positioned as close as 1″ apart.
Common features of our Magic Rack® systems.
Our unique patented Magic Rack® crossbar technology protects electrical connecting points from paint build-up to reduce maintenance and replacement costs.
Magic Rack® racks and hooks are reusable over many production cycles by replacing coated hooks without cleaning entire racks.
Magic Rack® systems are infinitely changeable to achieve the best parts density. Different parts can all be held and painted on one rack.
Custom hooks designed to fit the Magic Rack® crossbar can be made quickly to hold problem parts.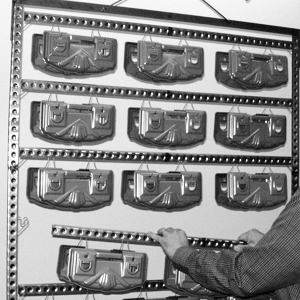 Magic Rack@ II Starter Kit
Magic Rack II – Starter Kit
$175.00
Includes Two (2) complete racks as shown in diagram.
*Please fill out every option below to order*
Description
#5172-L – Support Hooks – Pricing for 1:
Part Number:
#5172-L
***Note: Two 5172's needed for each horizontal crossbar***
Quantity Discounts (each):
1+ $2.35
100+ $2.23
200+ $2.11
400+ $1.88
Additional information
| | |
| --- | --- |
| Conveyor Hook Length | Conveyor Hook Length, 8", 9", 10", 11", 12", 13", 14", 15", 16", 17", 18", 19", 20", 21", 22", 23", 24", 25", 26", 27", 28", 29", 30" |
| Conveyor Hook Style | |
| Inside Diameter (for hook styles C and G only) | 1/2″, 1″, 2″, 5/16″, NOT APPLICABLE |
| Conveyor Hook Position | |
Magic Rack@ II Complete Rack
Magic Rack II – Complete Rack
$79.00
1-25  = $79.99
26-50 = $72.99
51-100= $68.99
101+  = $64.50
*Please fill out every option below to order*
*Custom Widths and Lengths Available, Call for Quote*
Description
#5172-L – Support Hooks – Pricing for 1:
Part Number:
#5172-L
***Note: Two 5172's needed for each horizontal crossbar***
Quantity Discounts (each):
1+ $2.35
100+ $2.23
200+ $2.11
400+ $1.88