Magic Rack® I
INCREASE PRODUCTION efficiency and REDUCE OPERATING cost.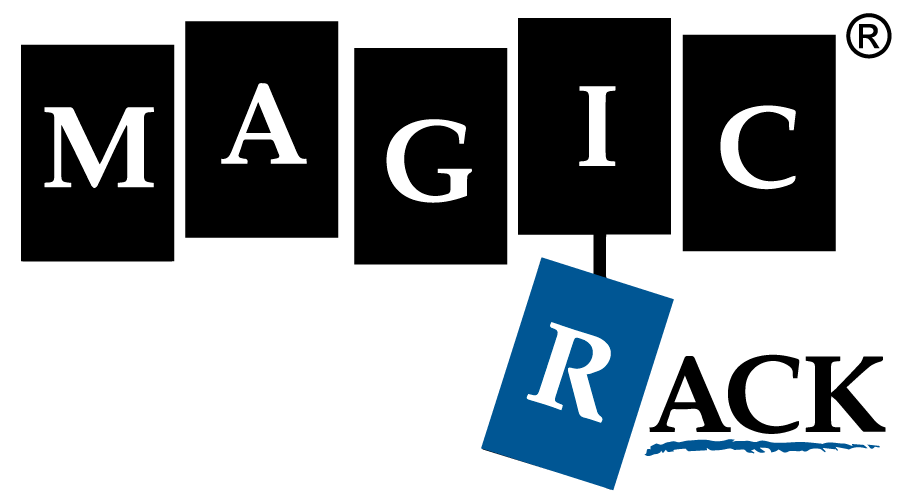 Features of our patented Magic Rack® I
Magic Rack® I racks feature side hangers of various lengths to connect multiple tiers for maximum flexibility. All connecting points are shielded from the paint to maintain a good ground for high quality production. No bolts. No welding.
The standard Magic Rack® I measures 19-3/8″ wide for maximum density eliminating wasted space on the conveyor line. Custom widths are also available.
Magic Rack® standard and custom hooks can quickly be removed and replaced. The flexible spring steel hooks lock into the Magic Rack® I crossbar and can be positioned as close as 1″ apart.
Common features of our Magic Rack® systems.
Our unique patented Magic Rack® crossbar technology protects electrical connecting points from paint build-up to reduce maintenance and replacement costs.
Magic Rack® racks and hooks are reusable over many production cycles by replacing coated hooks without cleaning entire racks.
Magic Rack® systems are infinitely changeable to achieve the best parts density. Different parts can all be held and painted on one rack.
Custom hooks designed to fit the Magic Rack® crossbar can be made quickly to hold problem parts.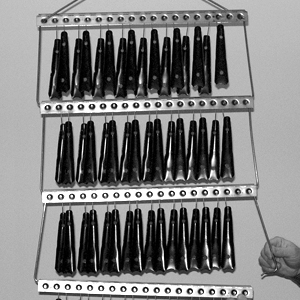 MAGIC RACK® I STARTER KIT
Magic Rack I – Starter Kit
$175.00
Includes Four (4) complete racks as shown in diagram.
*Please fill out every option below to order*
Description
4 RACKS OF 4 BARS EACH
4 – conveyor hooks – 3/16″ diameter rod
4 – 19-3/8″ wide top crossbars
12 – 19-3/8″ wide standard crossbars
24 – side hangers (8 each – 6″, 12″, 18″)
8 – retainer rods
Misc hooks for testing (varying in length, diameter & position)
Custom and heavy duty hooks
Blanks of different wire gauges to design special hooks to fit your needs
Custom widths for crossbars are available. Call for quote
Additional information
| | |
| --- | --- |
| Inside Diameter (for hook styles C and G only) | 1/2″, 1″, 2″, 5/16″, NOT APPLICABLE |
| Conveyor Hook Length | Conveyor Hook Length, 8", 9", 10", 11", 12", 13", 14", 15", 16", 17", 18", 19", 20", 21", 22", 23", 24", 25", 26", 27", 28", 29", 30" |
| Conveyor Hook Style | |
| Conveyor Hook Position | |
MAGIC RACK® I COMPLETE RACK
Magic Rack I – Complete Rack
$42.99
---
Quantity Discounts (each):
1-25 =   $53.71 NOW  $42.99
26-50 = $38.83 NOW  $39.99
51-100= $38.83 NOW $38.50
100+ = $35.99
*Please fill out every option below to order*
Description
1 RACK OF 4 BARS EACH
1 – conveyor hooks – 3/16″ diameter rod
1 – 19-3/8″ wide top crossbars
3 – 19-3/8″ wide standard crossbars
6 – side hangers
2 – retainer rods
Custom widths for crossbars are available. Call for quote
Additional information
| | |
| --- | --- |
| Inside Diameter (for hook styles C and G only) | 1/2″, 1″, 2″, 5/16″, NOT APPLICABLE |
| Side Hanger Length for MR1 | 4", 5", 6", 7", 8", 9", 10", 11", 12", 13", 14", 15", 16", 17", 18", 19", 20", 21", 22", 23", 24", 25", 26", 27", 28", 29", 30" |
| Conveyor Hook Length | |
| Conveyor Hook Position | |
| Conveyor Hook Style | |